Belgian TikTok star and bodybuilder Frank De Tank, who lives in Kenya with his 22-year-old girlfriend, has been arrested for alleged drug trafficking.
De Tank, popular by his TikTok name Frank Murugi, has been arrested and brought back to Belgium to stand trial in what may be Belgium's biggest trial. De Tank was accused of illegally raising Ksh 452 million ($3.5 million).
With over 1 million followers on Tiktok, The Belgian has also been accused of being the prime suspect in a drug trafficking case in which several people have been accused of illegally importing almost 2 tonnes of cocaine into Belgium via the port of Antwerp between 2015 and 2016.
De Tank and 29 other suspects believed to be his accomplices appeared in court on Thursday February 10 at the start of the trial where he is expected to make a plea and face charges.
Belgian Tiktok star Frank De Tank in a Lamborghini.
HLN
"The Belgian judiciary indicts the suspects in connection with the illegal importation of two tons of cocaine from South America in 2015 and 2016. The four main suspects are Frank 'de Tank' V and three others," several Belgian media houses reported.
The Belgian, a former docker, is said to have recruited other "dockers" to help smuggle cocaine into the monarchy.
However, he became an overnight star, sharing his new lavish life on social media. In 2017, he was caught by Belgian police officers after jumping from one supercar to another, from Ferrari to Porsche to Lamborghini. He also had excursions in Venice and the Maldives.
Police therefore questioned his source of funds and the lavish lifestyle he portrays on social media pages.
Aside from the police, the bodybuilder is said to have encountered suspected gangs who were targeted over a disagreement over a EUR 400,000 (about Ksh 51m) shipment.
The father of two moved to Kenya, where he met his now 22-year-old girlfriend. According to media reports, the two have been together for five years.
However, he fathered the two children with his ex-wife.
On TikTok, De Tank is famous for dancing on the beach and covering his lover's whole body with euro bills of unknown denomination.
The arrest has sparked debate online, raising questions about the influx of relationships between Kenyan girls and wealthy foreigners.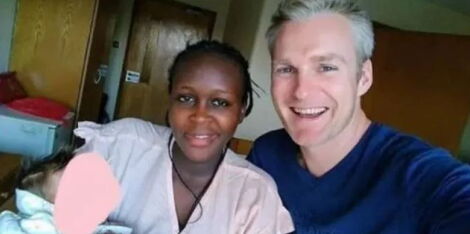 Cryptocurrency investor Merc De Mesel and girlfriend Felista Njoroge, 21, pose for a photo.
decency
In November 2021, a Ksh 102 million account for a Felista Njoroge, a student at the Nairobi Technical Training Institute (NTTI), was frozen after her Belgian friend Merc De Mesel deposited the funds.
Felista informed the responsible investigating authorities through her lawyers that the money was a gift from the Belgian, which was used for her investment projects.
Another account for Felista Njoroge's friend Tebby Wambuku Kago was also frozen after Merc De Mesel deposited Ksh 102.8 million.
drug arrest suspicious illegal