According to Chinese Ambassador Zhou Pingjian, China will seek to strengthen diplomatic ties with President William Ruto's government.
Speaking at the University of Nairobi (UoN) on Saturday October 1st, Pingjian stated that his country will support Ruto's government with partnerships in the education system as a top priority.
He indicated that the Chinese government will increase its investment in the education sector through its scholarship program.
"We also appreciate the importance and value of education. It is one of the focal points of our bilateral cooperation.
Spokesman Moses Wetangula and Ambassador Zhou Pingjian on September 22, 2022.
Twitter
Moses Wetangula
"I hope our partnership can do more to encourage this collaboration. The Embassy started this scholarship program 10 years ago and we can do more. It's the only natural thing for us," he said.
He noted that the scholarship has benefited thousands of students in the country and that fostering diplomatic ties will help Kenya's economy grow and develop.
"We're just a family. In the Embassy, ​​it is natural for us to find ways to show our friendship. The embassy started the scholarship program ten years ago and was pleased that we can make a small contribution to reward Kenyan students," he said
The Chinese ambassador's statement comes days after he was received by National Assembly Speaker Moses Wetangula, who allayed fears that Ruto's government would cut ties with the Asian country.
"China is one of Kenya's key national development partners and has provided significant support to our infrastructure development over the past decade.
"I assured him that the new administration of President William Ruto has no plans to limit our cooperation with the ROC," Wetangula said at the time.
In recent years, China has been one of the country's largest investors in the infrastructure sector, with most of the major projects being carried out under the rule of former President Uhuru Kenyatta.
Some of the projects undertaken include the Nairobi Expressway and the Standard Gauge Railway.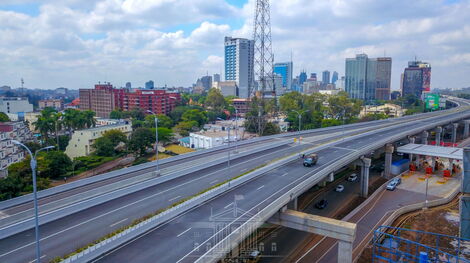 A police car on the Nairobi Expressway.
PSCU