Energy Petroleum and Regulatory Authority (EPRA) Director-General Daniel Kiptoo has outlined the government's plan to diversify investments into fuel and electricity to protect Kenyans from inflationary pressures.
After the government hiked fuel prices in the country, Kiptoo announced on Wednesday September 14 that the state is focused on shifting investment to other renewable energy sources.
Kiptoo specifically pointed to plans to use geothermal energy, which Kenya is one of the world's leading producers. Kenya's wind and solar energy potential can also be used to avoid over-reliance on energy imports, according to the regulator.
He defended President William Ruto's plan to suspend the subsidy program, arguing that it was unsustainable. According to the EPRA DG, the program was launched to cushion Kenyans, especially during the pandemic. But its continued use has affected the country's fuel supply.
File photo of EPRA Director General Daniel Kiptoo.
file
"Subsidies are not good and in certain exceptional circumstances they are unnecessary. The consideration of setting up a stabilization fund under the Petroleum Development Levy should allow the government to set up a fund in times of low oil prices," he said during an interview with Africa uncensored.
Kiptoo also echoed the views of retired President Uhuru Kenyatta, stating that the recent fuel hike is a global phenomenon.
According to the latest review, Super Petrol rose to a record high of Ksh 179.30 per litre. Diesel is Ksh 165 while kerosene is up Ksh 20 in Nairobi to Ksh 147.94.
Intervention plans to stabilize fuel and electricity costs
According to the EPRA Director General, energy stakeholders are negotiating with the government to lower the tax regime. He noted that this would help replace the subsidy program, which even the International Monetary Fund (IMF) called unsustainable.
Treasury data shows that taxpayers spent Ksh 144 billion, including Ksh 60 billion, on the subsidy program in the last four months alone.
Also, to combat high fuel prices, he noted that the government had put forward plans to reinvest in oil fields and boost local oil production, including the underutilized Turkana oil fields.
Kiptoo further announced that the government plans to build infrastructure to harness wind and solar power. This will help the country diversify its energy sources, thus relieving pressure on power generation.
He said the Ruto government is working to strengthen and build expertise in power generation with the help of Kenya Electricity Generating Company (KenGen).
Unlike a generation, Kiptoo outlined the government's plan to increase the transmission of solar and wind energy through appropriate investment plans.
"The biggest challenge is that power projects take 5-7 years to develop. We negotiate a reduction in generation costs, which then leads to efficiencies in transmission and distribution. Customers will then see long-term sustainable benefit versus cost reduction," Kiptoo noted.
Kenya Power is also running a pilot program to introduce electric vehicle (EV) charging stations in the country. The energy supplier intends to install charging stations in different households to encourage the use of electric cars.
This will help address the issue of rising fuel prices in the country.
Ruto will also come up with a new plan that will replace the subsidy program and lower the cost of living in the country.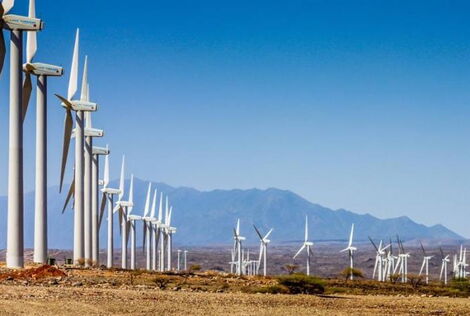 Wind turbines installed on Lake Turkana.
Twitter