In Kenya, a group of fearless women find ways to express themselves through graffiti painting. In doing so, these women challenge stereotypes by visualizing societal issues affecting their community.
Graffiti Girls Kenya work in Kenya's capital Nairobi – and in the major cities surrounding it – painting murals that adorn the walls of creative hubs and community centers. Although the murals are brightly colored, the themes of these works cover a wide range of societal ills.
Recently, Graffiti Girls Kenya produced a three part series on gender based violence.
Credit: Elizabeth Okwach
Recently, the collective produced a three-part series on gender-based violence, culminating in a giant mural in Nairobi's Baba Ndogo neighborhood. Last month, OkayAfrica spent a Saturday afternoon with the girls as they painted the second mural in their series. This mural depicts a young woman in bold colors with a hand covering her mouth. According to the Graffiti Girls, the mural shows how many women are afraid to speak out about the violence they face on a daily basis.
"Gender-based violence is very widespread here. Most ladies prefer to be slapped by their friends as a token of love. If they don't get hit, they don't feel loved," Yvonne Nzilani, an artist and member of Graffiti Girls Kenya who lives in Baba Ndogo, told OkayAfrica. "But I don't agree with that. There are those who speak up, but the majority don't. For those who report to the authorities, their situation worsens. Therefore, most ladies prefer not to express themselves. When we do these murals in the streets and in community centers, it encourages more women who are experiencing gender-based violence to come out and speak out because there are people who can listen to them."
The Graffiti Girls Kenya initiative was founded in 2015 by Douglas Smoki Kihiko, a renowned artist from Kenya. The purpose of the program was to create a space for women to explore the power of advocacy through art. "I started Graffiti Girls Kenya because young women interested in graffiti didn't have a platform to discover and explore their talent," Kihiko told OkayAfrica. "If they wanted to learn, there was neither space nor anyone to teach them. In 2015 we had a studio and young girls could mingle with us but they couldn't because our studio was full of boys."
22-year-old graffiti girl artist Njeri Wahome, who lives in Langata, Nairobi, countered that most female artists are not taken seriously as they are seen as "women" and not artists. Nzilani, who goes by the name Yvonne-nzilani, said it was challenging being a graffiti artist in a predominantly "patriarchal society," but she's always worked hard at her craft. "I do this out of passion. I want people to have hope as soon as they see my murals on the streets or in the creative hubs, Nzilani said. "The mural may not affect someone immediately, but there comes a time when this mural can make an impact in the lives of will have someone. "
There is a lot of thought and preparation behind this work. The process of creating a mural begins with a weekly research meeting on issues affecting the community, a conversation where girls share their experiences and have in-depth discussions about the issues. In the afternoon they make sketches and murals.
"When I draw a mural like this, it's a success story for me. There's this notion that women can't draw. In fact, when the women who are subjected to gender-based violence see murals like this and find out it was a woman who did it, they look for you just to talk, even if you can't solve their problems," Nzilani said . "In fact, so many girls have reached out to talk to me. They usually tell me what they're going through."
Nzilani is a relatively newcomer to space. She began painting in 2018 when she met her mentor, Joan Otieno. It hasn't been an easy journey for her, largely because of opposition from her parents – who don't see art as a noble profession – and the homeowners, who charge money so she can paint the walls. Despite the challenges, Yvonne remains positive about her work.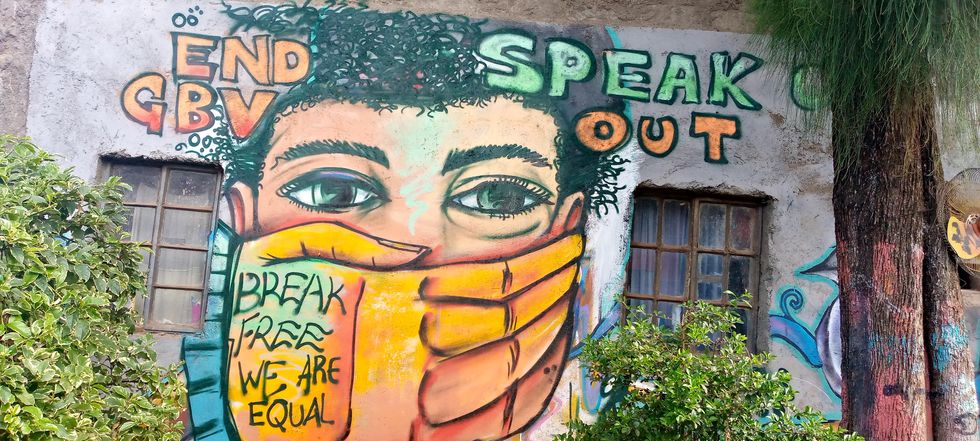 "When we do these murals on the streets and in community centers, it encourages more women who are facing gender-based violence to come out and speak out."
Nelly Bradbury, 22, recognized her talent in high school and took up graffiti art after confiding in a friend of hers who introduced her to Graffiti Girls Kenya. Since then, Bradbury has never looked back. Bradbury is now speaking about their work and discussing the importance of the message they are trying to convey, especially on issues of such urgency.
Gender-based violence has become a silent pandemic worldwide, with reports indicating that 1/3 of women will experience some form of violence in their lifetime. In Kenya, the most recent government report (from 2014) shows that 45 percent of women and girls between the ages of 15 and 45 have been subjected to physical, psychological or sexual violence and many cases go unreported.
Bradbury sees public art as a crucial place to address this issue.
"Our messages through graffiti are bold and clear. When people come by, they can see it and even guide it, Bradbury said. "I believe that art in public space changes the social conditions of our community and instills a deep sense of dignity. It also changes the stories of people who have been ignored or overlooked."
From your website articles
Related articles on the Internet