Presidential candidate Justina Wambui Wamae has come out to reveal how she defeated other contenders for election as the likely presidential nominee of Deputy President George Wajackoyah's Roots Party.
Speaking of citizen television On Wednesday, June 8, Wamae announced that her husband played a crucial role in rekindling her passion for politics and joining Wajackoyah's side. He's the one who first shared a poster of Wajackoyah with her.
Wamae then decided to submit her resume to the Roots Party for consideration for the running mate post. At that point, the two had never met in person.
Professor George Wajackoyah with fellow campaigner Justina Wambui and some supporters. PHOTO/Alvin Mwangi
file
"Roots put out an ad saying they were looking for a collaborator. I sent in my resume, which I also used to apply for the post of Principal Secretary after the 2017 election. We were invited for an interview and they insisted that if I am married I will come with my spouse.
"The reason was that they would get two votes from my family. The selection committee, chaired by a retired judge, was successful," Wambui said.
On May 5, Wajackoyah revealed the young businesswoman. She graduated from Daystar University with a bachelor's degree and a master's degree from Jomo Kenyatta University of Agriculture and Technology (JKUAT).
After school, Wambui emerged in procurement where she honed her skills to become an expert in the process of finding and agreeing to terms and acquiring goods, services or works from an outside source.
Wambui first made headlines during the 2017 election when she ran unsuccessfully for the Mavoko parliamentary seat.
She explained the importance of her candidacy, noting that she was 10 years old in 1997 and at that time Raila Odinga was fighting for the top spot in the country. The chance to be on the same ballot as Raila inspired her that everyone can dare to dream.
Along with Wajackoyah, Wamaei believes marijuana has the potential to power the country's economic development. The 35-year-old believes the bhang deal will boost the struggling economy and ignite an economic revolution.
"If we have our own marijuana, we don't have to tax Kenyans as a source of funding. Nor do we need foreign debt at high interest rates," she explained.
The prospective DP argued that part of the credit Kenya receives from China comes from the proceeds of bhang farming. She claimed that if Kenya takes over the facility, the question of seeking credit would decrease.
Despite pushing for its legalization, Wambui revealed that she had never smoked the banned drug.
"I've never puffed Bhang, but I can assure you one thing, I even asked my husband's permission, as soon as we win, during the inauguration, I'll puff," she explained in a previous interview.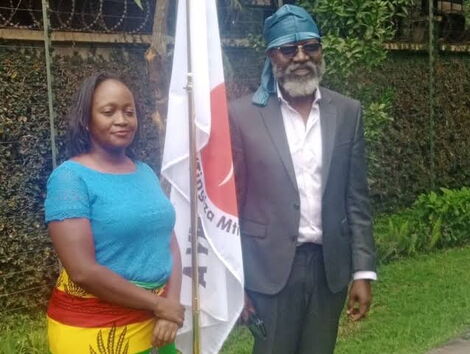 File photo of Roots Party presidential candidate George Wajackoyah and his running mate Justina Wambui Wamae
file
drug poisonous