Several roads in Nairobi will be closed on Sunday May 7th as Kenya hosts the Nairobi City Marathon.
In a warning shared by the Kenya National Highways Authority (KeNHA), city residents have been informed that the Uhuru Highway and Mombasa Road will be affected by the closure.
Other streets that will be closed are Haile Selassie Avenue, Moi Avenue, City Hall Way, Taifa Road, Parliament Road, Mama Ngina Street and Kimathi Street.
Motorists in a rush hour traffic jam on the Uhuru Highway in Nairobi on October 17, 2019.
Kenyans.co.ke
KeNHA also announced that Kenyatta Avenue, Koinange Street, Monrovia Street, Muindi Mbingu Street, University Way, Simba Street, Globe Roundabout, Kipande Road, Museum Hill Road, Bunyala Road and the Masaba Road will also be closed during marathon times.
The intersection of Mombasa Road and Likoni Road will be closed between midnight and 10am.
A lane on Lang'ata Road, Moi Avenue and Bunyala Road will also be closed. A section of Lang'ata Road on the Nyayo Stadium side will also be affected.
The Lang'ata Road section will be closed until 6am on Sunday. Uhuru Highway will be closed between midnight and 2 p.m., while Douglas Wakiihuri Road will not be used from midnight today and until 5 p.m. Sunday.
"Drivers are advised to avoid the closed sections of road and follow available alternate roads as directed by local traffic officers," KeNHA said.
"The marathon route runs across a variety of roads, including the Nairobi Expressway."
Sports Cabinet Secretary Amina Mohammed described the marathon as the perfect tribute to President Uhuru Kenyatta for his immense contribution to the sports industry and legacy in infrastructure development.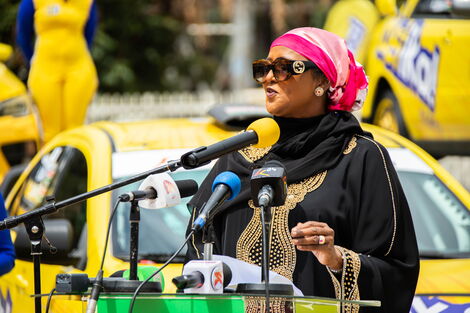 Sport CS Amb. Amina Mohammed delivers her speech at the start of Team Betika at Nyayo Stadium on June 4, 2021
Kenyans.co.ke
"This will be an international marathon held on a legacy project of His Excellency President Uhuru Kenyatta. It is a perfect tribute to his legacy of infrastructure development and his contribution to sport.
"The Nairobi City Marathon will take place over the next 10 years and we hope it will continue to commemorate the tremendous milestones achieved by the President during his tenure," stated CS Amina.