Kenya will benefit from Google's Ksh 120 billion plan to create a cloud region in sub-Saharan Africa, as promised by Chief Executive Officer (CEO) Sundar Pachai.
In a statement on Wednesday, Oct. 5, Google Cloud Africa director Niral Patel announced that an under-construction link station in Nairobi will be operational.
Patel explained that it will be part of an elaborate plan to build an open and healthy ecosystem of technology solutions to transform Africa's digital aspirations.
Director of Google Cloud Africa, Niral Patel.
Business Insider Africa.
"We are expanding our network through the Equiano submarine cable and building dedicated cloud interconnect sites in Johannesburg, Cape Town, Lagos and Nairobi. This will lead to more opportunities for businesses," he explained.
In addition, Google will set up its first African product development center in Nairobi. The facility is used to incubate, develop and manufacture better products for Africans.
"Google Cloud is already working with customers across the continent, helping them solve business-critical challenges, get online and take advantage of digital technology," the statement reads in part.
To further simplify doing business in Kenya, the tech giant has expanded its coverage of the country on its Maps application to boost navigation around the country.
"To make maps more efficient, Google Street View in Kenya has updated miles of imagery to help people explore and navigate neighborhoods virtually," the global technology company said.
The CEO expressed confidence that thousands of jobs will be created not only in Kenya but also in other countries on the continent. Patel reiterated that Africa's internet economy has the potential to grow to Ksh 21.7 trillion (US$180 billion) by 2025.
So far, the search engine company has invested Ksh 6 billion (US$ 50 million) in nine African tech startups, including Kenyan e-logistics company Lori Systems.
It has also partnered with the United Nations (UN) to establish the Global Africa Business Initiative (GABI), a global partnership aimed at accelerating Africa's economic growth and sustainable development.
On September 6th, 12 Kenyan startups were selected from 60 submissions to the Startups Black Founders Fund (BFF) for Africa to receive basic awards ranging from Ksh 6-12 million and up to Ksh 24 million in Google Cloud credits.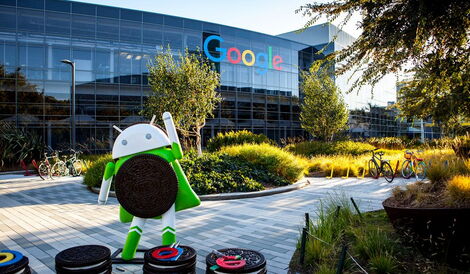 Google headquarters in San Jose, California
file