The following section assesses our main findings regarding the growth of fenced areas over time relative to 1) protection types, 2) administrative boundaries, and 3) other fences.
Fencing in relation to land governance
A general growth of fenced areas can be observed throughout the Greater Mara in the 00's but particularly in the last decade (Fig. 1). Based on satellite imagery, 35,067 ha were fenced off in 1985, which is about 5%. In the next 25 years, there was only an insignificant increase in fenced lots. However, starting in 2010, the number of fences suddenly grew rapidly, and in the subsequent period (2015–2020) the fenced area increased exponentially even more radically (Fig. 2). For example, in 2015 there were 63,112 ha of fenced land; In 2016, that number rose to c. 75,176 ha, corresponding to an approx. 20% annual increase. From 2010 to 2020, the fenced area increased by 170%. This corresponds to a quadrupling of the fenced area in the study period (1985-2020).
In almost all regions, the number of fences continued to increase in 2019–20 (Fig. 2). The result is a total of 130,277 hectares of fenced land in 2020, representing 19% of the Greater Mara.
Therefore, there seems to be a growing momentum in fence deployment in the Greater Mara: the regions that had many fences in 2016 (>1,000 ha) continue to see an increase in the area enclosed by fences, with fences expanding almost everywhere in 2020 especially . The regions with the fewest fences in 2016 (
All types of administrative regions show an increase in fenced areas in the study period 1985–2020, with an acceleration in 2010 and a radical expansion since 2014 (Fig. 3).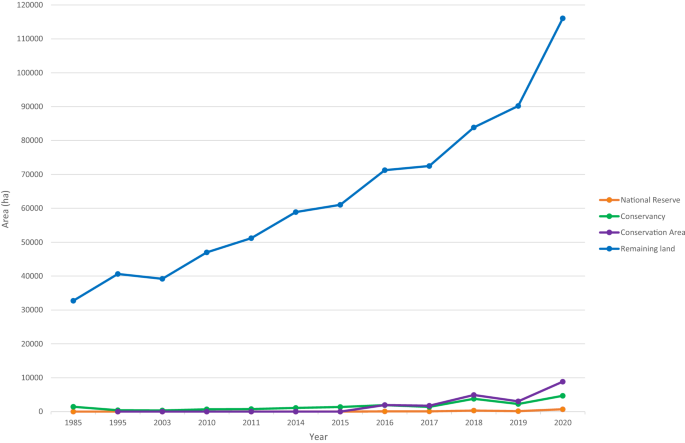 Hardly any fences were erected in the National Reserve from 1985 to 2020 (less than 0.1% fenced land).
Across the conservancies, fenced areas have been relatively constant, with a small increase from 1% coverage in 1985 to 4% in 2020. Most conservancies had few fences throughout the study period (1985–2020), including Issaten, Nashulai, Ol Kinyei, Naboisho and Olderkesi. No fences were recorded in three conservancies (Siana, Olarro North, and Olarro South) until 2018, when fewer than 15 ha of fences were discovered. Despite this, these regions with the fewest fences have seen increases in the years 1985–2010 after 2010 and especially after 2014 (Fig. 4A).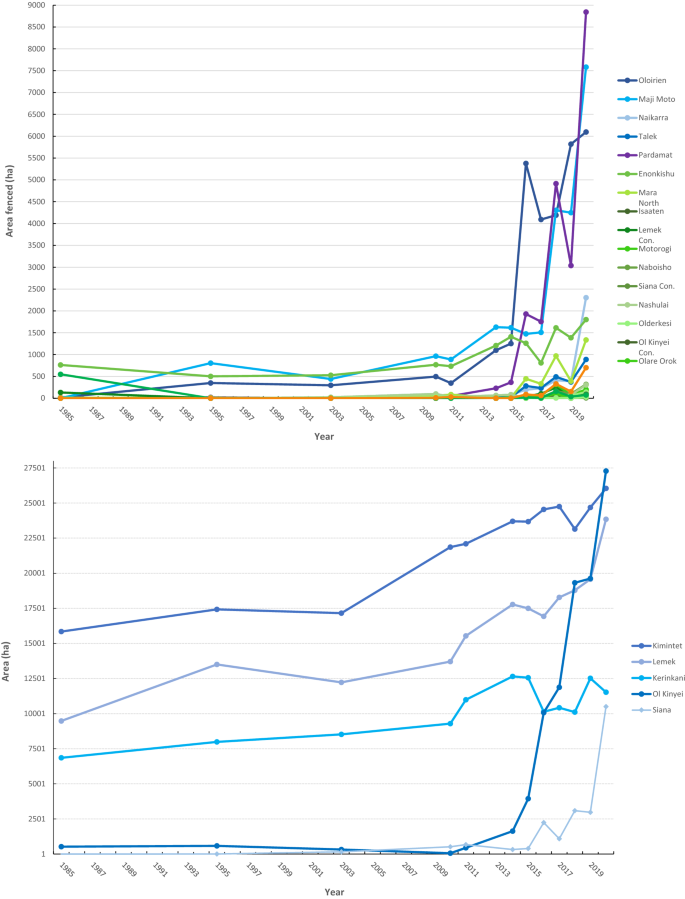 In the protected area (Pardamat), the changes in the ratio of fenced areas have been more pronounced over the last ten years. Until 2014 it hardly had any fences; then the fence began to increase exponentially, from 1,929 ha of fenced land in 2016 to 8,842 ha of fenced land in 2020, an increase of 460% in just four years.
The remaining (formally unprotected) regions in the Greater Mara experienced the most dramatic increase in fencing in 2010–2020, and the proportion of fenced areas increased from 9% in 1985 to 31% in 2020. The four most heavily fenced regions are discussed below.
The three formally unprotected regions of Kimintet (50% of land is fenced), Kerinkani (77% of land is fenced), and Lemek (49% of land is fenced) have significantly more fenced land than the rest of the Mara over the entire study period (Fig. 4B ). A fourth region, Ol Kinyei, had little fenced area between 1985 and 2014, but thereafter fenced land increased exponentially from 3,678 ha in 2015 to 27,283 ha in 2020, representing a 740% increase in fenced land in four years (Fig. 4B ). A similar situation was observed for Siana, where between 1985 and 2015 less than 1000 ha were fenced (
From the above it follows that there is a clear dependency between the relationship of the fences and the formal land management of a given region. Figure 4A,B shows a notable difference in the number of fences within the National Reserve, Protected Areas, Protected Areas and Remaining Land, with the Emerging Protected Area (Pardamat) and Remaining Land experiencing the largest increases since 2010.
Fencing relative to administrative boundaries
Within conservancies, fences are mainly located near administrative boundaries in a buffer zone between conservancies or between conservancies and remaining land. In 10 out of 16 conservancies more than 70% of the fences were within one kilometer of their administrative boundary. In four conservancies, 48-62% of the fences are within this buffer zone. In all non-protected areas except Talek, less than 30% of the fences were within the zone, indicating a more dispersed ad hoc distribution (Fig. 5).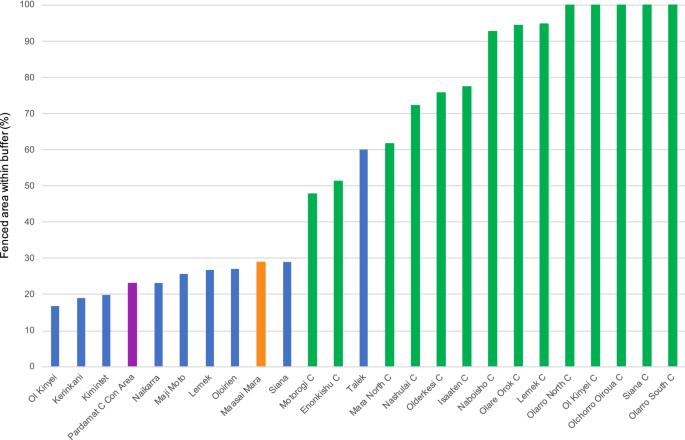 Outside the conservancies, the fences reflected a more ad hoc distribution. More than 70% of the fences were scattered throughout the area, in the sense that each fence did not necessarily border another fence. An exception is Talek, where 60% of the fences were within the one kilometer buffer zone. A possible explanation for this is that Talek is a small region (3,920 ha), making the fences more likely to be near its borders.
Fencing relative to other fences
The new fences appearing in the Greater Mara appear to be growing primarily as extensions or additions to existing property fences. In Maji Moto, for example, almost all fences were repeatedly expanded for each new mapping session between 1995 and 2020 (Fig. 6), suggesting a much more dynamic or fluid picture than what is evident from Fig. 1, and this is probably relevant for people, livestock and wild animals on site. Before 2010, the existing plots were divided into smaller and smaller plots, while the size of the total fenced area remained the same. In the example below (Fig. 6), several smaller fences appeared around the former property. In 2018, the property was divided into smaller enclosures and additional properties were added. And in 2019-2020 there were so many fences that it is questionable whether areas almost or entirely surrounded by fenced areas can be considered unfenced at all (see also Fig. 7).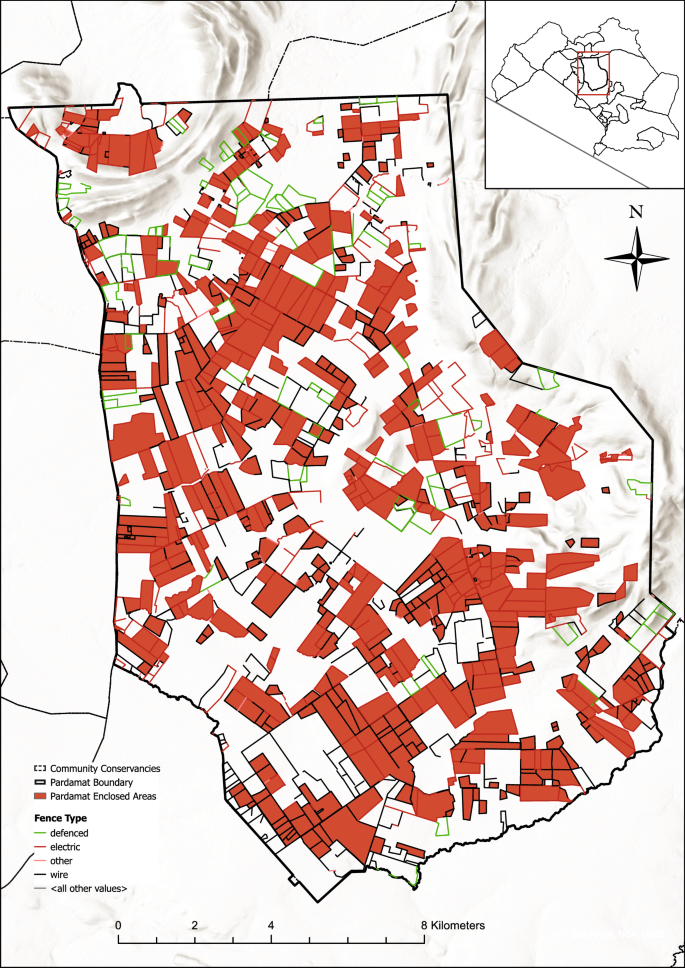 In other regions, fences are beginning to fill in open land in between fenced plots at some distance from each other. For example, there are now two fairly distinctive fronts of fenced lots on the satellite imagery: a south-facing front from c. 40 km stretching across Siana and into the national park, and a north-facing front beginning west of Talek and passing through Nashulai, Siana and Maji Moto for at least 52 km.
Some fences have been in place since 2010, others as early as 1995. For example, south of Olorien, just north of the Kerinkani border, a 32 ha fenced area was surrounded by some smaller fences in 2010. Over the next decade (2011–2019), this fence expanded its area coverage to 75 ha. Another example is found northwest of the Enonkishu Conservancy, where the 2003 maps show the enclosure of a large meat farm, Mara Beef. A fence can be seen in the Maji Moto region as early as 1995. After 25 years, this fence changed its size and shape, but the entire area remained fenced off during the study period (1995–2020). These examples suggest that the ongoing effort to erect, expand and maintain fences has been going on for more than a generation now. And that once a fence has been erected, it is difficult to get rid of.
Case study: Pardamat Nature Reserve
Pardamat was established in 2016 as a mixed-use livestock/wildlife sanctuary to promote the reconciliation of traditional animal husbandry and wildlife tourism. Consisting of 850 landowners, Pardamat covers an area of ​​23,400 ha. Within this region, fences stretched a distance of 920.6 km, including electric (491.6 km (53.4%)), wire (420.6 (45.7%)) or other (8.4 km (0.9%)) with an average fence density of 3.93 km/km2 (Fig. 7). Fenced fence areas covered 8129 ha (34.7%) of the total area. Compared to the satellite-based method (8840 ha), we find a relatively small difference of 8% in the area estimates. During the ground truthing period, 96.4 km of fences were removed by the protected area administration and are not included in the reported values ​​and are responsible for part of the 8% discrepancy between ground-based and satellite-based imagery (i.e. satellite digitization) happened before 60 km of fence was removed were defended).