Azimio la Umoja A Kenyan presidential candidate, Raila Odinga, has come under fire for his comments about second-hand clothing, known as Mitumba.
During its manifesto launch on Monday June 6th, Raila stated that the importation of mitumba Clothing into the country had killed other sectors of the economy including manufacturing.
While explaining its effects, Raila noticed this mitumba Clothing worn by people in Kenya may have been worn by people who have already died.
But in his whole plan to give mitumba Sector a facelift, Raila explained that he will be reviving the manufacturing sector to allow merchants to source locally made clothing as a replacement mitumba.
Former Prime Minister Raila Odinga during the launch of the manifesto of coalition party Azimio la Umoja One Kenya at Nyayo Stadium on June 6, 2022.
Twitter
Sabina Chege
Raila indicated that he intends to do this by increasing government support for the country's cotton sector and textile industry.
"Mitumba killed our whole sectoral industry. Our people only wear clothes that come from outside the country and were worn by the dead.
"We go into primary production so that our people who import mitumba can sell good products here. I'm saying we're not putting anyone out of business, we'll see to it that those who import mitumba to market first-hand goods that are manufactured here in this country," explained Raila
"We will be ginning the cotton here and making the finished product here and this will again create a very large source of employment for our youth in the country."
This statement drew mixed reactions from Kenyans online after his speech was edited to show only the part where he said so mitumba could have been carried by the dead.
Kimililis MP Didmus Barasa mocked Raila for the feelings and asked the Kenyans to forgive him.
"Those who slam Raila Odinga for his comments mitumba Clothing should forgive him. This is a man who was born when his father was vice president," Didmus explained.
On the other hand, noted digital strategist and blogger Dennis Itumbi mitumba contributes to over 2 million jobs in the country.
"Mitumba employs 2 million Kenyans, mitumba pays Ksh 18 billion in taxes and 91.5 percent of Kenyan households buy second-hand clothes," Itumbi said, condemning Raila's testimony.
Nonetheless, Raila's supporters welcomed the move, saying it will result in more jobs and better quality products. The Governor of Kisumu, Anyang Nyong'o, in conversation with KTN Newsnoted that Raila's statement was taken out of context, but in the true sense he intends to empower mitumba traders more and save them the cost of expensive import duties.
"Raila was just misquoted. His plan is actually to change that mitumba sector and make it more affordable for all merchants in the country. His plan will save many dealers expensive imports," Nyong'o said.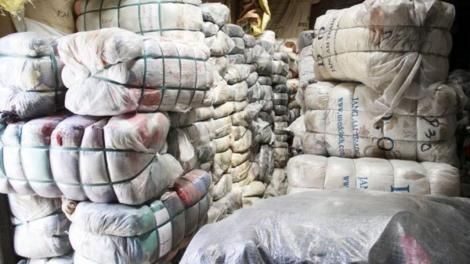 Unopened bales of second-hand clothes.
file
dead died killed