Russia has donated Ksh 118 million (US$1 million), which will be used to build the capacity of Kenya's healthcare sector to respond to the fallout from the pandemic.
The donation came as a surprise as the country is in the midst of a war with its neighbor Ukraine, a move that has resulted in sanctions being imposed on its government.
Russia worked with the Ministry of Health under Cabinet Secretary (CS) Mutahi Kagwe and the United Nations Development Program (UNDP).
Kisumu, Busia and Migori districts will benefit from the Russian-funded program.
Doctors taking care of a patient
(DECENTITY)
"Thanks to this initiative, the medical institutions of the three counties received a batch of medical supplies, a total of 89,500 items. Construction is now underway at Kisumu Hospital on a new, modern kitchen facility built with the support of the Soviet Union."
"More than 200 girls and young women residing in these counties and employed in the small business sector are completing six months of computer literacy courses," read in part a statement from the Russian embassy in Kenya.
Opening the project, Vladimir Lenev, Deputy Permanent Representative of the Russian Federation to the international organizations in Nairobi, stated that the fund will strengthen Kenya's health sector.
"The implementation of this project will contribute to Kenya's progress towards achieving the Sustainable Development Goals," said Lenev.
Russia under President Vladimir Putin invaded Ukraine on February 24.
The sanctions imposed on the Russian economy have hampered their efforts to support development projects at home and abroad.
Despite the sanctions, Russia has continued to deepen diplomatic relations with other countries.
On Tuesday, July 26, Uganda's President Yoweri Museveni announced that his government would continue trade with Russia despite the sanctions.
Museveni made the remarks at a joint press conference with Russian Foreign Minister Sergei Lavrov at State House in Entebbe.
"We want to trade with Russia. We want to trade with every country in the world. We don't believe in being enemies of an enemy," Museveni explained.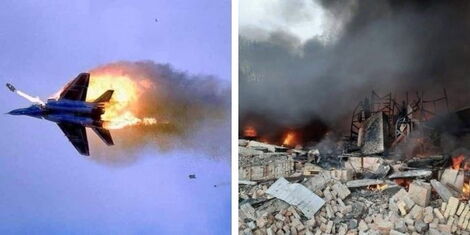 A collage of the ongoing war between Russia and Ukraine.
file
Ukraine Russia