President Uhuru Kenyatta has hailed Her Majesty Queen Elizabeth as a great leader who has helped transform the world.
In a statement sent to the editorial board on Friday September 9th, the Head of State expressed his sadness at the death of the Queen, which took place yesterday, Thursday September 8th.
In particular, he underlined the role played by the Queen in promoting relations between Kenya and the United Kingdom (UK).
"Her Majesty Queen Elizabeth II was a towering icon of selfless service to humanity and a key figure not only of the UK and Commonwealth of Nations, of which Kenya is a distinguished member, but of the whole world," Uhury said.
Queen Elizabeth in 1952 during his famous trip to Kenya and vacationing at Treetops Lodge
Africa24
In addition, the outgoing head of state expressed that the Queen shares a great history with Kenya as her reign began during her tour of the country.
"Uhuru has received the sad news of the death of Queen Elizabeth II with great sadness and a deep sense of loss, saying that the people and government of the Republic of Kenya stand in solidarity with the Royal Family, the United Kingdom and the grieving world the late monarch.
"Recalling Kenya's close ties to Queen Elizabeth II, the head of state noted that the longest-reigning monarch in British history succeeded her father, King George VI, who died while she was on safari in Kenya ' the statement said, in part.
Earlier, President-elect William Ruto hailed the monarch as a symbol of unity in the Commonwealth, adding that various programs have boosted Kenya's economy during her more than 70-year rule.
"She has steered the development of the Commonwealth into a forum for effective multilateral engagement whose potential to drive tremendous socio-economic progress remains undeniable and stretches back into the Queen's historical legacy.
"We will miss the warm relations she shared with Kenya and may her memories continue to inspire us," Ruto said.
Uhuru and Ruto are among thousands of Kenyans who sent condolences to the royal family following the Queen's death aged 96.
Queen Elizabeth will be succeeded by her eldest son King Charles III.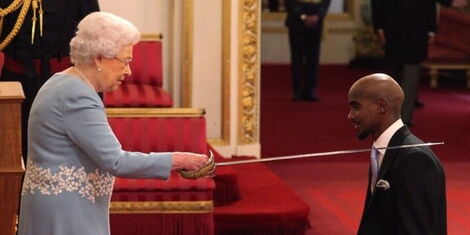 Her Majesty Queen Elizabeth II at a past knight award ceremony.
file
died Death