Zanzibar-based Warere Beach Hotel responded to allegations of sexual assault by a Nigerian woman on Twitter around 1pm on Saturday 16 April.
Using the microblogging application, Zainab Oladehinde shared her experience a year ago when she went to Zanzibar for vacation on her birthday.
In a Facebook post Sunday morning, the Warere Beach Hotel said the matter had been reported to the relevant authorities, who ruled the case personal and not negligence on the part of the hotel.
"We tried our best to support Ms. Zainab Oladehinde as soon as we learned of the allegations. We immediately took them to the police and offered their support," Hotel Warere wrote on Facebook.
The hotel also accused the aggrieved customer Zainab of refusing to pursue the case after taking numerous avenues in her quest for justice.
"Ms. Zainab declined to take the case any further. Ms. Zainab Oladehinde was informed that the hotel would make compensation payments through Zanzibar's court system," the hotel added.
The hotel says it is ready to pay the compensation awarded to Zainab by the courts.
Additionally, the hotel's management claims it was hacked on Saturday, adding that it received over 4,000 negative reviews in three hours from people it believes have never stayed at its facility.
There was an uproar on social media for most of the weekend following allegations of sexual assault by the Nigerian while on holiday in April 2021.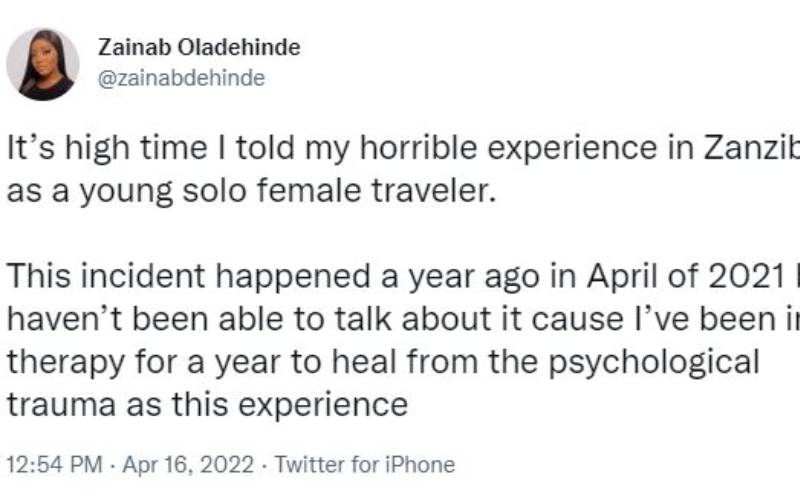 In her narrative, Zainab traveled alone from Lagos, Nigeria to Zanzibar, Tanzania on April 15, 2021 for her 23rd birthdayapprox Date of birth.
She claims to have been sleeping naked at night (believed to be due to the hot weather on the East African coast) when she felt a man touch her.
She says they ran into trouble when the man tried to force his way through before convincing him to bring a condom. He agreed.
"So I kept pleading with him and told him I would allow him to have sex with me but he would have to get a condom to avoid contracting HIV. I saw him respond to the word "HIV" so I kept saying HIV while crying profusely at that point," Zainab tweeted.
He then continued: "When I was struggling not to let him strangle me, he left the room and told me he would come back with a condom. Immediately after he left I turned on the light and tried to call the hotel reception but to my surprise there was no intercom or phone lines to reach the hotel reception through the room."
She adds that after he left, she crept barefoot and on tiptoe to avoid being noticed. She sought refuge with a Russian couple she had met before.
The next morning, she went back to her room to find her $1,100 in cash was missing from her pocket. She adds that she reported herself to the police, who only harassed and bullied her instead of helping her.
This morning, a statement from the Zanzibar Tourism Commission, shared via Visit Tanzania's official Twitter page, expressed its disappointment at the allegations.
In the statement, Hafsa Mbaba condemned the act and said investigations into the allegations had begun.
"It is a regrettable incident that we are closely following," the commission said.
Game ideas for the Easter season

Bunny Hop is a dance competition where you can gather your whole family, crank up some favorite songs and everyone can show off their best moves.